Products
We offer our Phenolic molding compounds with 30 years over experience to meet customers' needs such as weight saving, cost saving and design flexibility.
Phenolic molding compounds are reinforced with glass fiber, organic filler or inorganic filler.

Shizuoka Plant
Yamaroku Kasei Industry Co., Ltd.
SumiDurez Singapore Pte. Ltd. (Singapore)
Sumitomo Bakelite (Suzhou) Co., Ltd. (China)
Sumitomo Bakelite (Nantong) Co., Ltd. (China)
Sumitomo Bakelite North America, Inc. (USA)
Durez Canada Co., Ltd. (Canada)
Vyncolit NV (Belgium)

High Performance Plastic Technology Development Laboratory
Sumitomo Bakelite North America, Inc. (USA)
Vyncolit NV (Belgium)
Features
Non-ammonia material
Our high reliable non-ammonia grade has extremely low metal corrosion and excellent electrical properties.
Excellent solder heat resistance
High heat resistance over 400°C meets high cycle requirement in solder reflow process of SMT.
Non-halogen flame retardant materials
Many kinds of thermoplastics lose their mechanical strength to get non-halogen flame retardancy. Our non-halogen flame retardant phenolic molding compounds for transformer bobbin has high mechanical strength with cost-effectiveness.
Major grades are approved for UL1446 insulation system (Class B).
Tracking resistance (CTI:250V) compliant
Good balance of CTI (comparative tracking index) and mechanical strength for high frequency and high voltage requirement in electrical components.
Commutator materials
Excellent mechanical strength, heat resistance, humidity resistance and dimensional stability improve revolution at burst and bar-to-bar movement for noise reduction and brush wear. Processability such as slitting, press-fitting of shaft and fusing is also excellent.
High reliability
Outperform engineering thermoplastic with high heat resistance, rigidity at high temperature and good creep property at high temperature.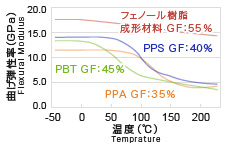 Good dimensional stability
Good transcription ability to cavity and good dimensional stability.
Wide range of design flexibility
Good moldability for wide range of thickness from thin parts (100microns) to thick parts (tens of mm), complicated shape or uneven thickness parts.
Environmental compatibility
Environmental loading
material free
:
Asbestos free, halogen free
Recycle
:
Thermal recycle
Material recycle
| | |
| --- | --- |
| ※ | We develop the world's first Chemical Recycle Technology for Phenolics. |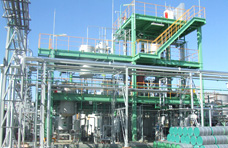 Chemical Recycle Demonstration Plant (Shizuoka)
Applications
Electrical and Eelectronic Equipment
Electronic Component
Transformer bobbins for SMT and circuit breakers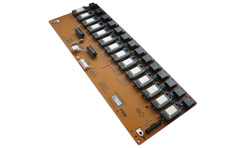 Electric
Switch cases and commutator for small motors
Automotive/Railways/Aircraft
Automotive Mechanical Components
Front End Accessory Drive Pulley, Cooling parts (water pump cover, impeller, thermostat housing, ...), transmission parts (AT stator, DCT valve block, hydraulic valve parts, ...)
Commutator, brush holder, slip ling, starter solenoid cover, ...
Disc brake caliper piston, booster valve body, ...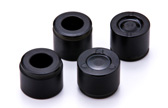 Window regulator housing, air spring guide bush, ash tray, ...
Fuel pump impeller, fuel pump case, ...