Waterproof Business Products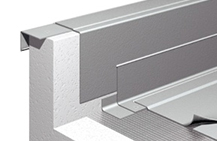 Waterproofing for Rooftop
Waterproofing for rooftop requires not only absolute waterproofing performance but also various added values such as durability, heat insulating effect, disaster prevention effect, and designs. We provide value-added waterproofing by our time-tested "DN Waterproofing".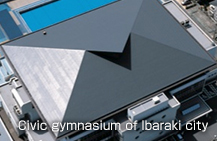 Waterproofing for Pitched Roof
Our waterproofing system for pitched roof "Dunslant Roof" is exclusive for pitched roofs. This system has excellent properties of DN Waterproofing Systems and its original patterns give the roof beautifully designed appearance.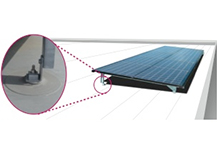 Waterproofing System for Solar Panel System
The system is equipped with anchors which allow amorphous silicon photovoltaic power generation system to be installed together on the roof.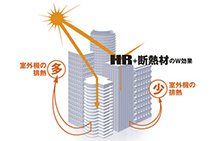 High Reflective Roofing Sheets
DN Waterproofing System HR shows its effect of reducing the heat island phenomenon by reflecting up to 80% of infrared rays in sunlight and avoiding rise in temperature of buildings.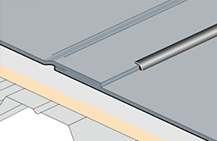 Waterproofing on Metal Substratum
Developed for metal substratum, this waterproofing system has excellent flame retardancy and workability. It can demonstrate 30 minute fire-retardant on the roof and can be widely used in residential and commercial blocks.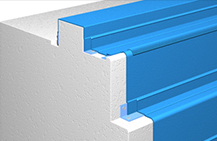 Waterproofing for Swimming Pool
Highly reliable waterproofing system made of waterproofing sheets which have excellent durability and chemical resistance. This system is an optional choice for repair work of existing waterproofing systems whose substrates are reinforced concrete, steel sheets, aluminum, stainless steel, etc.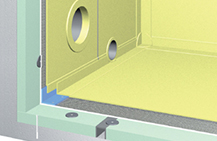 Waterproofing and Insulation for Heat Storage Tank
Regenerative heat pumps contribute to energy saving. Our waterproofing and insulation system for heat storage tank "Ene-Tech System" supports the energy saving activities in urban cities. Our materials and technologies developed exclusively for this purpose help to build a comfortable urban environment.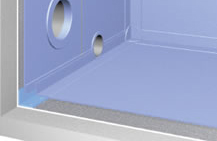 Waterproofing for Water Tank
This is a waterproofing technology for drinking water tanks, distribution reservoirs, etc. indispensable for our life. We assure "security" of your life through our clean and safe waterproof system using waterproof layer materials which are in compliant with the New Drinking Water Quality Standards of the Waterworks Low in terms of durability against temperature changes and aging, etc.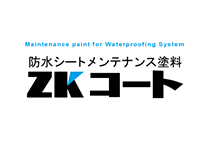 Maintenance Paint for Waterproofing Sheets
PVC waterproof sheets tend to get hardened and cracked after they are exposed to wind, rain ultraviolet, etc. ZK coat contains some ingredients which soften the DN Waterproof sheet, and recovers the softness of the waterproof sheets.