Description
It is a powder novolak resin modified with lignin which is non-edible biomass.
Good balance of flexibility and heat resistance can be expected for friction materials.
Features
✔ Flexibility

✔ Heat resistance

✔ Utilizing Biomass
Main Grades
Grade
Features
Flow
125℃, mm
Gel Time
165℃, sec
Free Phenol
(%)
PR-X20068
Balance of flexibility
& heat resistance
12
29
<1.0
PR-X20084
Balance of flexibility
& heat resistance
22
26
<1.0
Specifications are subject to change without notice due to the development grades.
About Lignin
It is a phenolic resin modified with Lignin which is non-edible biomass. Lignin modified resin shows comparable workability and performance to conventional oil-based phenol resins.
Furthermore, the resin shows unique property in specific application.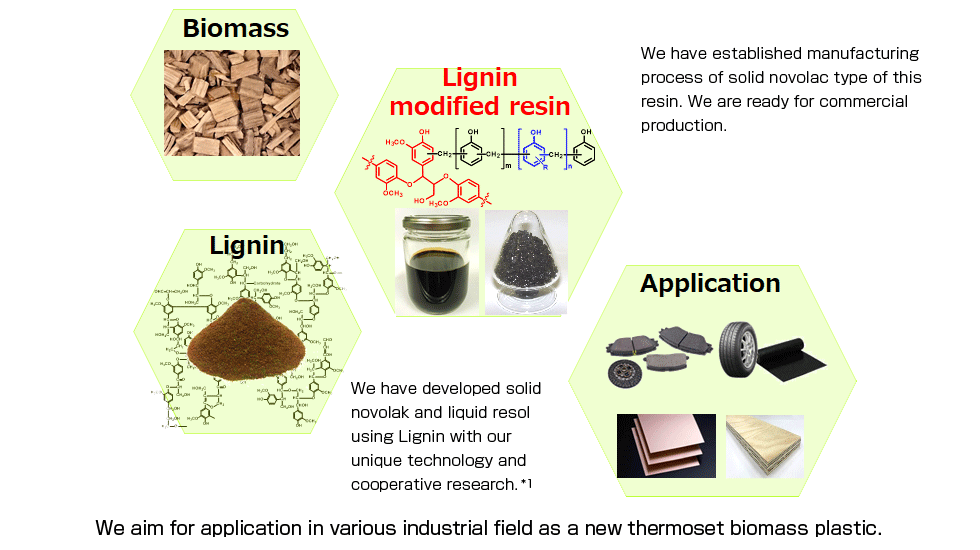 *1: This development utilizes results obtained from a project commissioned by the New Energy and Industrial Technology Development Organization (NEDO).
Technical Data
Friction Property
Composition: Resin/Cashew particle/Aramid fiber/ Barium sulfate= 20/7.5/5/67.5 vol%
Condition: Hot press 150ºC /4min, Baking 200ºC/5hr
Item
Non-modified resin
Lignin modified resin
Porosity (%)
17.1
17.2
Hardness(HRR)
77
53
Flexural strength (R.T., Mpa)
34.8
24.0
Flexural strength after
350℃, 2hr, (R.T.,Mpa)
2.3
2.7
Lignin modified compound exhibits excellent strength deterioration resistance at high temp.
At room temp, it has low hardness and relatively low strength.
Friction DMA test
The friction shows better flexibility and tan δ at high temp, due to low crosslink density of resin structure.
For inquiries on this product
Polymer Sales Dept.
High Performance Plastic Products Business Unit
Sumitomo Bakelite Co., Ltd.
2-5-8 Higashi-Shinagawa, Shinagawa-ku, Tokyo 140-0002 Japan
Tel: +81-3-5462-4764
hpp-polymer@ml.sumibe.co.jp