Sustainability Promotion Structure
Today, initiatives aimed at realizing a sustainablesociety are gathering speed around the world and the role of companies in these initiatives is increasing. Amidst this, the SDGs are a universal set of goals that both developing and developed countries are working to achieve. Japan, too, is advancing proactive efforts toward the SDGs.
Our Group has incorporated SDGs as one component of our corporate policies. We are aware of the influences that our corporate activities have on society, and of our social responsibilities. In order to meet these responsibilities, we propose, deliberate and decide on measures that contribute to the formation of a sustainable society, including those involving SDGs. We have established our Sustainability Promotion Committee in order to execute these efforts continuously and companywide, and have created our Basic Policy on Sustainability Promotion, under which we have begun a variety of initiatives with partnerships throughout our whole Group. For strengthening our initiatives with respect to climate change, we have formulated Environmental Vision for 2050 (net zero), adding the SDG 13 on taking specific measures against climate change to our Group's priority SDGs, increasing our priority areas from "5+1" to "6+1."
In July 2021, the "Environmental Impact Reduction Committee" was reorganized into the "Carbon Neutral Promotion Committee" with the aim of further strengthening and promoting carbon neutral (CN) initiatives. In addition, in order to promote activities that contribute to CN and to investigate and study technologies that contribute to CN, the "Energy Conservation Subcommittee" has been reorganized into the "CN Technical Review Subcommittee."The Risk Management Committee is responsible for risk management, which is essential for promoting sustainability. (See "Integrated Report" page 28 and "Risk Management")
In February 2021, the Sustainability Promotion Committee approved TCFD, and formed the "TCFD Task Team" under the Risk Management Committee to conduct a climate-related scenario analysis for 2040 (long-term) to identify potential risks and opportunities associated with climate change. (See

"Disclosure based on TCFD recommendations"

) We continue to pursue efforts with regard to corporate social responsibility (CSR) primarily through responsible care

*1

initiatives centering on our Responsible Care Committee and Carbon Neutral Promotion Committee. From our Corporate Management Department to our Research & Development Departments and each business site, we are engaged in a range of initiatives through companywide partnerships. Given the inseparable relationship between sustainability and CSR (because it is through executing our corporate activities while keeping mindful of sustainability that we fulfill our corporate social responsibilities), our Group intends to improve sustainability by undertaking various CSR activities contributing to SDGs.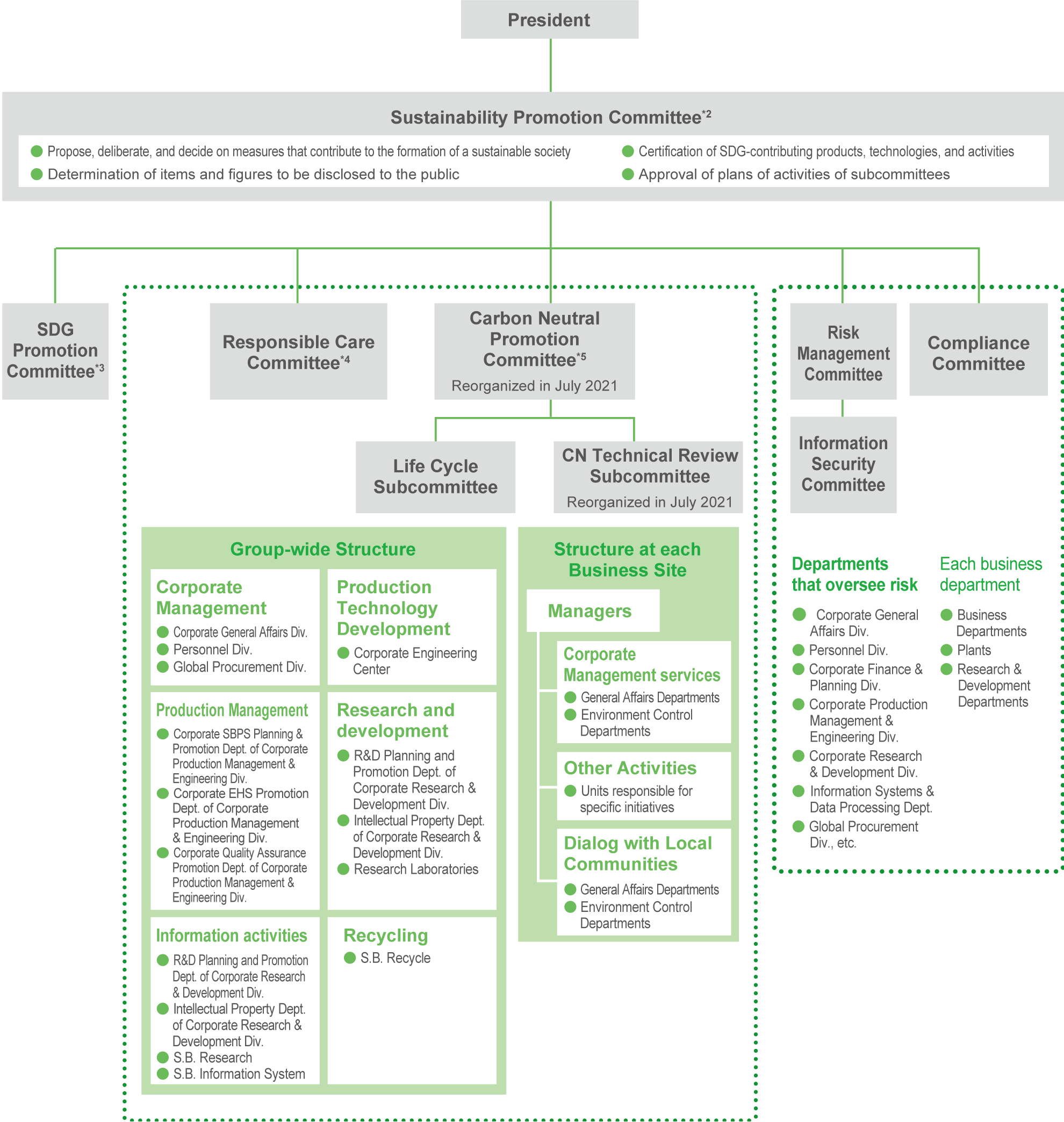 *1 Responsible care means that companies should work to secure the environment, safety, and health in all of their corporate activities from the development of chemical substances through production, distribution, usage, final consumption, disposal, and recycling. They should also make information publicly available on the results of their activities and implement measures to promote dialog and communication with the community. (Japan Chemical Industry Association)
*2 Headed by the President, the committee is composed of Executive Officer and division representative and meets about once every 2-3 months. In June 2022, the name of the committee was changed to although this had no impact on its English name.
*3 Chaired by the officer overseeing the Corporate production Management & Engineering Div., the committee consists of members selected from each business division and meets once a month.
*4 Chaired by the officer overseeing the Corporate Production Management & Engineering Div., this committee meets twice each year. It has the objective of promoting Responsible Care activities related to the Company's business operations. It has the objective of promoting Responsible Care activities related to the Company's business operations.
*5 Chaired by the officer overseeing the Corporate Production Management & Engineering Div., this committee has two subcommittees—the Life Cycle Subcommittee and CN Technical Review Subcommittee. It meets once or twice each year. It's aim is to strengthen and promote our Group's carbon-neutral initiatives.
Our Basic Policy for Promoting Sustainability
We solve social issues and achieve sustainable growth and value creation under a structure comprised of our Sustainability Promotion Committee (which is chaired by the President) and its subcommittees based on our Business Philosophy, which esteems the Sumitomo's Business Philosophy and sets forth our management principles.
We regularly and comprehensively verify the extent of the progress made by these committees, based on which we continuously revise the contents of our activities and actively improve upon them. We widely announce the results of our activities within the company and outside it in aiming for communication with our stakeholders.
Policy on our Responsible Care Activities
Philosophy
In all its operations, Sumitomo Bakelite Co., Ltd. will contribute to the sustainable development of society while promoting business activities by meeting the highest standards of the Responsible Care concept and giving due consideration to environmental preservation, human health and safety as well as product quality.
Policy
1. Evaluate the safety, health, and environmental aspects throughout the entire life cycle of a product, from product design to the procurement of raw materials through disposal, strive to minimize the environmental impact of our corporate
2. Make sustained, Group-wide efforts to promote resource and energy conservation, waste reduction and biodiversity conservation;
3. Perform Environmental, Safety & Health Audit and Quality Assurance Audit as well as work to maintain and improve systems for managing environmental protection, safety promotion and disaster prevention, worker safety and health, and quality management;
4. Comply with all relevant laws, regulations and agreements associated with safety, health, the environment, and chemicals while autonomously establishing administrative rules with the aim of strengthening management capacity, so as to improve environmental, health and safety conditions for society, customers, and employees;
5. Work to ensure and improve the safety of raw materials, products, transportation operations and process safety, and provide product safety information to employees, customers, and others;
6. Promote continuous improvement in security over facilities, processes and technologies, and implement operational safety management programs to ensure the safety and health of employees and residents of local communities;
7. Publicly disclose information on the environment, safety and products to and promote dialog with interested parties such as customers, employees and residents of local communities, so as to identify their needs and deepen mutual understanding and trusting relationships;
8. In order to ensure environmental conservation, human health and safety as well as product quality, provide employees with training to develop necessary human resources for that end.