Tokyo, Japan – April 14, 2022 Sumitomo Bakelite Co., Ltd. (TOKYO: 4203 HQ: Shinagawa-ku, Tokyo, President and Representative Director: Kazuhiko Fujiwara) announced today that it has developed a new lineup of Sumiresin Excel® CRX series, a photosensitive material for mini/micro LED displays, and has begun sample work.
Development Background
In addition to the photosensitive semiconductor wafer-coating materials (Sumiresin Excel® CRC series), Sumitomo Bakelite Co., Ltd. has developed the CRX-4000 series for use in displays. In mini/micro LED displays, it is expected that photosensitive materials with good lithography performance and insulation reliability will be required for high-density packaging of LED chips. Furthermore, high transparency and high light resistance are also important in order to maintain the high brightness which is the feature of mini/micro LED displays. Therefore, we have developed the CRX-4000 series, a highly transparent and light-resistant photosensitive material, by newly designing a resin structure and combining it with our formulation technology.
Features of CRX-4000 series
CRX-4000 series can maintain its high transparency after 500 hours of light exposure. Good light resistance without yellowing can meet the needs of materials around LED chips. With a wide range of thickness availability from 3 μm to 25 μm, it can be used for thin film applications as well as thick film applications. The development solvent is alkaline aqueous solution which is environmentally friendly.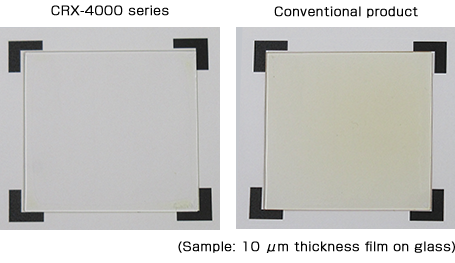 Application example


New lineup of Photosensitive Materials for Mini/Micro LED displays(PDF: 468KB)
Related Information
For inquiries on this product:
Sumitomo Bakelite Co., Ltd., Smart Community Marketing & Developing Division
E-mail: exh2-scm@ml.sumibe.co.jp