Sumitomo Bakelite Co., Ltd. (Head Office: Shinagawa-ku, Tokyo; President: Kazuhiko Fujiwara) has concluded an agreement to replace all electricity purchased externally*1 with green power*2 from January 2022 in all Sumitomo Bakelite Group plants and research laboratories in Japan.
Aiming to become carbon neutral (net zero) in 2050, the Sumitomo Bakelite Group has set "46% reduction in CO2 emissions by 2030 (compared to fiscal 2013)" as its medium-term management plan*3. The switch to green power is expected to reduce the CO2 emissions of the Sumitomo Bakelite Group in Japan by more than 60% compared to fiscal 2013, together with the energy conservation activities, MFCA activities, and the introduction of solar power generation.
Overseas, Sumitomo Bakelite Europe (Barcelona) S.L.U (Spain), a Group company in Europe, switched to green power 100% in April 2021, and Sumitomo Bakelite Europe NV and Vyncolit NV (Belgium) in October 2021. We will continue to take on the challenge of achieving our 2030 CO2 emissions target of 46% reduction (compared to fiscal 2013) on a global basis.
We will also contribute to our customers' efforts through the supply chain by actively disclosing information on improvements in CO2 emissions from the viewpoint of LCA (Life Cycle Assessment).
*1 Excluding electricity purchased by lessors, not by the Company, in case of leasing facilities. In addition, electricity generated by a cogeneration system (a system that effectively uses heat and electricity by LNG combustion) is not included.
*2 Green power is electric power derived from renewable energy (hydropower, geothermal, solar, wind, biomass).
*3 Details of the Medium-Term Management Plan 2021 -2023 are posted on the corporate website of Sumitomo Bakelite Co., Ltd. Please refer to the presentation materials (Medium-term Management Plan (FY 2021 to FY 2023) (PDF 2,641 KB).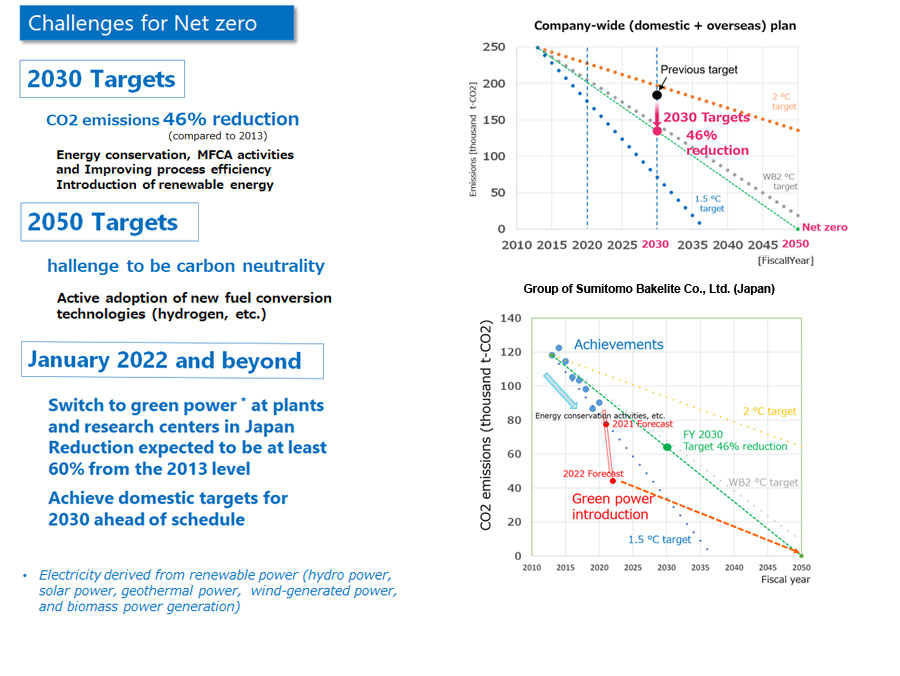 CO2 emission reduction targets achieved ahead of schedule at all domestic sites(PDF: 254KB)
For further information, please contact:
Corporate Communications Department, Sumitomo Bakelite Co., Ltd.
TEL: +81-3-5462-4818