Description
It is a powder novolak resin with improved ability of heat resistance, flexibility and water resistance by reducing the density of -OH. It is effective for improving wear resistance and crack resistance.
Features
✔ Heat resistance

✔ Flexibility

✔ Water resistance
Main Grades
Grade
Features
Flow
125℃, mm
Gel Time
150℃, sec
ree Phenol
(%)
PR-54458A
Heat resistance
39
200
2.5
PR-55170
Moldability
29
40
<1.0
PR-51316M
Flexibility
51
135
2.5
The values in this material are the representative values.
Technical Data
Thermogravimetric reduction data
Test condition:
200℃×1hr Cured sample, Room temp. 10℃/min
Friction bending strength (thermal deterioration at 350℃)
Aralkyl modified resin features excellent heat resistance.
It shows gentle thermal decomposition rate and the thermal deterioration of its compound is suppressed.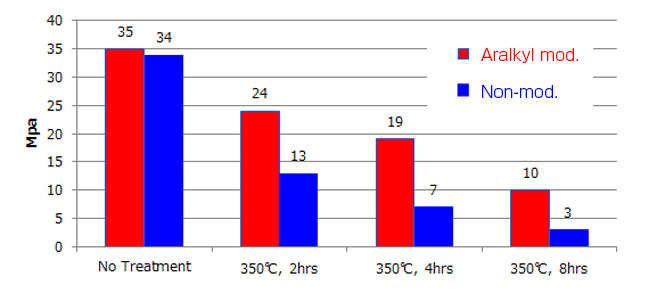 For inquiries on this product
Polymer Sales Dept.
High Performance Plastic Products Business Unit
Sumitomo Bakelite Co., Ltd.
2-5-8 Higashi-Shinagawa, Shinagawa-ku, Tokyo 140-0002 Japan
Tel: +81-3-5462-4764
hpp-polymer@ml.sumibe.co.jp